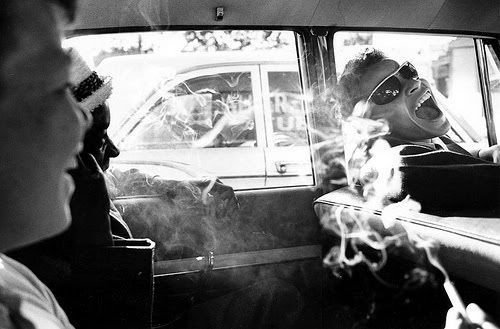 'Surf rock' is a term that's been misappropriated of late to describe the recent array of 'beach' and 'surf' dubbed acts like Beach Fossils, Surfer Blood, and songs like the Drums' "Let's Go Surfing." Sure, these bands dig reverb and linking themselves to the perennially hip surf culture, but this isn't
surf rock
. Or is it?
Surf rock largely rose out of southern California in the early 1960s from an instrumental dance music that featured either the saxophone or electric guitar—or a combination—on lead melodic duties. Tonally, the staple of the sound is an echo-based twang and reverb, which originated—at least partly—from a Phoenix recording session for Duane Eddy's 1958 album,
Have Twangy Guitar Will Travel
. Lee Hazlewood, working as a producer for the session, is credited with rigging up a speaker and mic inside a two-thousand-gallon steel water tank in the studio's parking lot, literally creating Eddy's own personal echo chamber and the sound of surf rock.
The Beach Boys—before rocketing to stardom—even included a few instrumentals by pioneering guitarist Dick Dale in their early repertoire. But the genre evolved inevitably, and with the addition of pop vocals, really became something else entirely. Aside from the word 'surf,' songs like Jan & Dean's "Surf City" or the Beach Boys' "Surfer Girl" sound nothing like surf rock—rather, it's vocally-driven pop music. Although the Beatles obliterated surf-themed music from the charts in the mid-60s with the British Invasion, the recording techniques and guitar play have gone on to influence everything from heavy metal to
hip-hop
. In the late 1990s, the genre was reinserted into the mainstream consciousness via films like
Desperado
("Jack The Ripper"),
Forrest Gump
("Rebel Rouser"), and perhaps most notably, in Quentin Tarantino's masterfully crate-dug soundtrack for
Pulp Fiction
.
Starting in the late aughts, talk of surf rock seeped its way into the music blogosphere with headlines like "Beach Fossils music fuels surf-rock craze," "Summer of Surf Rock," and "Surf Rock Revival." Well, is surf rock back? From this seat, the Beach Fossils and Drums seem to be a whole lot more influenced by the likes of New Order, Joy Division, and The Cure than the Rumblers or
Ventures
. If you're talking Best Coast or Wavves, the associations are predominantly superficial. But that's not the whole story. Take one listen to the guitar work in Surfer Blood's "Neighbour Riffs" (an instrumental!) or "Take It Easy" and you can hear notes of that echoey twang from Eddy's steel water tank. New Jersey's Real Estate is another group that has honestly updated the surf sound, whether or not it was intentional. Though much more lo-fi, wandering, and friendly than a Link Wray (pictured above) riff, Real Estate's weaving and shimmering six-strings are nevertheless the melodic stars of the show.
While classic instrumentals like
"Rumble"
may never be topped, there are aspects of surf music that seem to be influencing a handful of contemporary young bands. What do you think? Is there any merit to a surf rock revival? Or is it just a lazy way of grouping a bunch of exciting young bands into one pile? Personally, I think it's a bit of both.
Link Wray - "Jack The Ripper"
Duane Eddy - "Moovin' 'n' Groovin'"
Real Estate - "Green River"